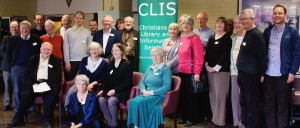 Saturday 5 April 2014 marked the official re-launch of the Librarians' Christian Fellowship as Christians in Library and Information Services (CLIS) at the "Moving Forward" conference in  London.  Guest speakers Dr. Neil Hudson, Director of the Imagine project at the London Institute for Contemporary Christianity, spoke on "Losing the Plot But Trusting the Author" and Dr. Peter Brierley, of Brierley Consultancy, spoke on "Resources for Making  Better Decisions."
Neil Hudson began his address with a tribute to the importance of libraries, both in his own life and in the lives of others.  He noted that, in an age of church decline, cathedral attendances in the UK are flourishing.  People are drawn to mystery and grandeur.  Despite library closures and cutbacks, large libraries, such as the new central libraries in Birmingham and Manchester, are also attracting large numbers.
Libraries curate life stories.  We need libraries in order to think, reflect and engage.  We are foolish to ignore stories.  All our small stories are part of the bigger story of life and all are part of God's story.  The author of our life story can be trusted.  The contexts of life continue to change throughout our lives, presenting new opportunities for Christian discipleship but we can change the culture through the small stories of our own lives.
Peter Brierley, a respected authority on church statistics, highlighted the importance of reliable information in any field of endeavour, and illustrated his theme by identifying  a number of key trends in Church and Society which needed to be recognised by church leaders.  These included the decline of the Church in numbers and influence; the sexualisation of society; the impact of technology especially on the young; significant generational differences; the crumbling of Christian heritage; and the increasing number of older people in both the churches  and in  wider society. Despite his sobering analysis, the speaker concluded that the Christian message was critical for the future and the Great Commandments and Christ's Great Commission are  eternally applicable and relevant.
The Conference also marked the election of the organisation's first "non-librarian" President in Eddie Olliffe, a well known figure in the Christian book trade and a former head of the Wesley Owen chain of bookshops.
Originally founded in 1976 as the Librarians' Christian Fellowship, CLIS is an association of Christians from many different denominations and a wide variety of library and information backgrounds.  Members join together to  consider professional issues from the standpoint of the Christian faith and to  provide  a Christian voice within their chosen  professions.  There are  opportunities for members to make their training and  professional skills available to Christian organisations running libraries.  Activities include regular conferences and lectures, visits, e-mail newsletters, and a quarterly journal Christian Librarian.
no images were found
Further details of the re-launch Conference, and the wider work of Christians in Library and Information Services, can be obtained from The Secretary, Graham Hedges, 34 Thurlestone Avenue, Ilford, Essex, IG3 9DU. Telephone 020 8599 1310, E mail [email protected]