DIANA GUTHRIE reports on our Annual Conference held on Saturday 6 April 2019 in the Oxford headquarters of the Universities' and Colleges' Christian Fellowship
PUBLISHERS AND ROBOTS
A group of CLIS members plus guests gathered in the comfortable surroundings of UCCF's headquarters in Blue Boar House in the centre of Oxford for the Annual Conference.
We began as usual with a brief time of worship led by Richard Waller, CLIS President, which included a reading of Psalm 96 and a passage from the first chapter of Hebrews; two well-loved hymns (Immortal, invisible, God only wise and Christ is made the sure foundation) were sung to a digitised accompaniment.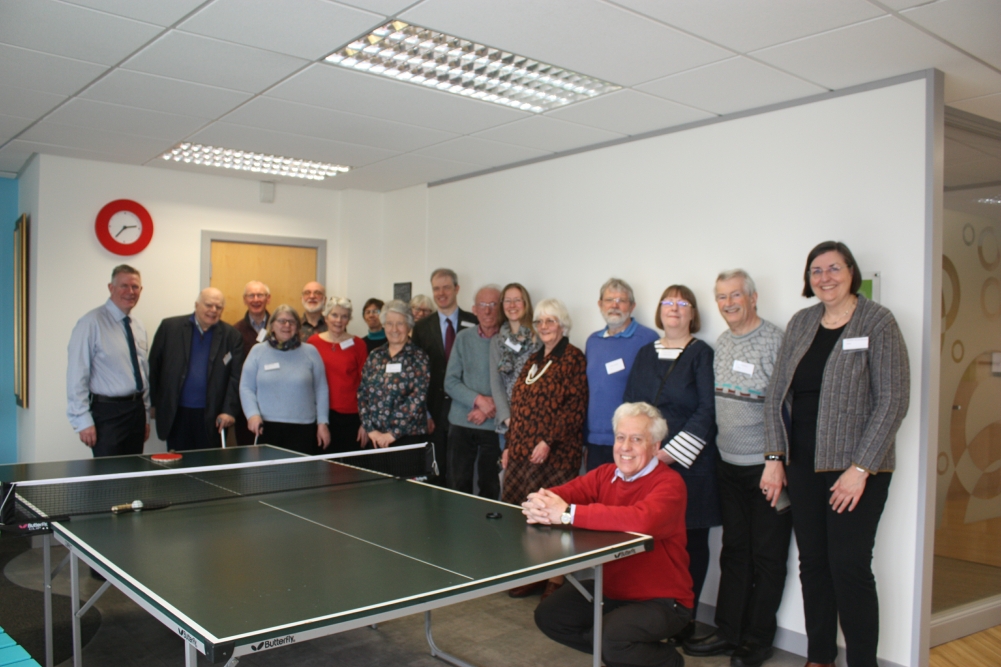 This was followed by the Annual General Meeting (see the separate Minutes).
The first speaker was Manoj Raithatha, who amongst other responsibilities runs the publishing house Instant Apostle. The first thing he said was that when he sat down to prepare this talk he felt he should talk not about publishing but about 'Vision' – how we see our role in God's over-arching plan for his world – so that was the theme of his talk.
What is the purpose of our lives? Taking passages in St. Paul's Letters to the Ephesians and to the Colossians, Manoj spoke about our identity as God's beloved children, and our need to respond by pursuing holiness and reflecting God's love to others.
A second theme of the talk was working for unity between God and his creation. When Christians work together, they become very effective at bringing people into God's family, thus carrying out the Great Commission found at the end of St. Matthew's Gospel. And together we should be working to become a holy temple, God's dwelling-place on earth.
Turning to his work with Instant Apostle, Manoj described the genesis of the publishing house and his gratitude for the support of Lion Hudson. Because Instant Apostle is small, the staff can be nimble on their feet and get books published within months. They've never needed to search for books to publish and are now exporting publishing rights to Europe. Christian fiction isn't easy to sell in the UK, but it has become the core of their output and seems to be bought by non-Christians as well as Christians.
In reply to a query about the name from one of his listeners, Manoj replied that Bridget Adams, who'd encouraged him to set up the publishing house, had found the name in an answer to prayer.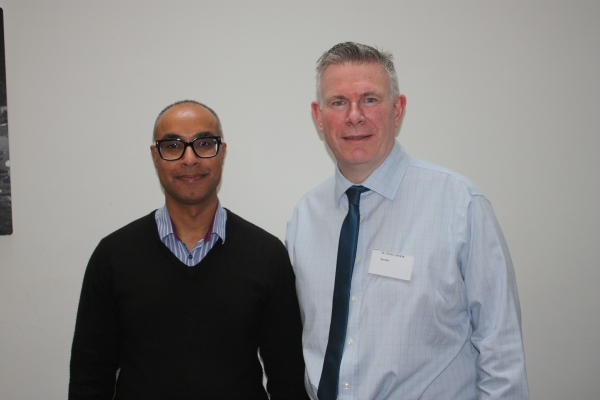 After a bounteous buffet lunch, Nigel Crook gave the afternoon talk, illustrated with slides and short video clips (and a robot!). Nigel researches artificial intelligence and robotics at Oxford Brookes University and is also an active Christian, so his talk dealt with the possibilities of developing robots with moral competence.
As robots come to look more and more like humans (and amazing human likenesses can be achieved), the more we may expect them to act like humans with their own set of morals, especially when they are embedded in society. The science of artificial intelligence has brought into being a whole new field of ethics.
Humans develop their ethos through training and experience (Christians would also acknowledge the action of the Holy Spirit). But how does that translate into training a robot? Who would it learn from? Who's setting the standard? Would one encode a set of rules within a robot, or teach it to learn by experience?
Can robots become moral agents? Nigel thinks not, because the heart, will and spirit are unique to humans. If a robot isn't free to choose, it can't be a moral agent, and morals can't be 'bolted on'. Nigel concluded that full moral agency isn't possible in robots, however sophisticated. Ultimately, it is the humans who have developed them who must be held accountable.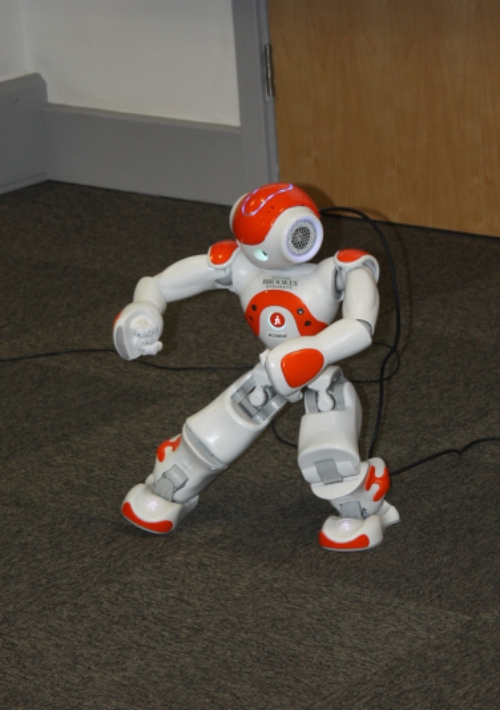 He'd brought along a small human-shaped robot, which was then persuaded to give us a Tai Chi demonstration to music!
There was some lively discussion afterwards:
Can artificial intelligence be used as a weapon? Yes – the autonomous weapon is an example, and someone in the audience added that the Royal Navy is already experimenting.
Could robots be used to fake miracles? Materialists may believe that humans can be replicated.
Artificial intelligence, like many other things, can be exceptionally helpful, but also have great potential for evil.
If only professionals were doing the coding, would this result in a single world-view?
At the end of the Conference Robert Foster, Chair of CLIS, gave the vote of thanks to the two speakers and to the many people who'd done so much work to make the day a success.
Diana Guthrie, MA, serves as Treasurer on the Executive Committee of Christians in Library and Information Services.